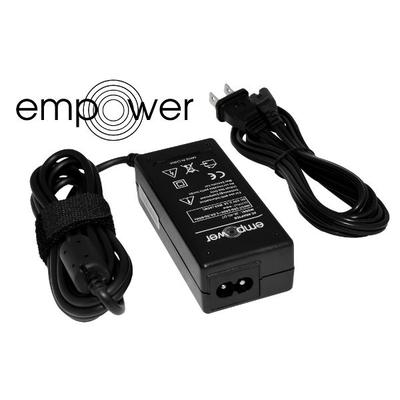 Empower JA-45-E5 AC Power Adapter, 19V 2.37A (45W)
Volume Pricing
5+
$9.40
10+
$8.85
25+
$8.00
50+
$7.75
100+
$7.45
Price
$11.10
FREE SHIPPING ✈️
•
Input: 100 - 240V (worldwide use)
•
Output: 19V 2.37A MAX. (40W)
• Connector: 4.0x1.2mm
•
DC Cord Length: 6 ft.
•
AC Cord Length: 6 ft.
•
Total Length: over 12 ft.
• Note: Amps and watts are maximum load ratings. Devices only draw as many amps or watts as they need.

Empower AC adapters offer superior quality and value that's unparalleled by others in the market.  Notable features include extra thick cords, a total length of over 12 feet, a robust circuitry design, and extra safety features.

Features
Extra thick 3.5mm 6 foot DC cord protects against shorts
6 foot 18AWG UL certified AC cord
Robust transformer and circuitry design provides power more efficiently and with less heat
Thermistor based thermal protection temporarily powers down the adapter in the event of overheating
Self resetting fuse provides over-current protection
Ferrite core eliminates RF interference
CE Certified

Warranty
We stand behind this product with a 5 year warranty, and as an established American company we will be here to honor our promises and serve you in the future.