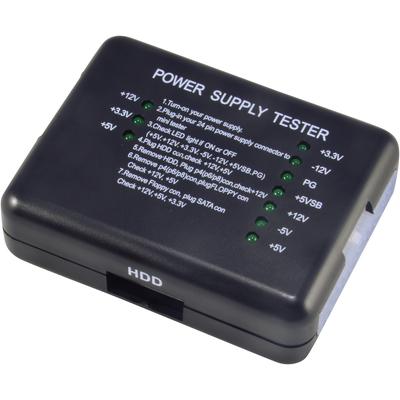 ATX Power Supply PSU Tester with 20/24 Pin, SATA & Molex HDD Connectors
Volume Pricing
5+
$4.35
10+
$3.55
25+
$3.15
50+
$2.85
100+
$2.65
Price
$4.95
FREE SHIPPING ✈️
• Checks 20/24-pin ATX (motherboard) Power, SATA (hard drive) power, Molex (old hard drive) power, Mini-molex (floppy) power, and 6-pin PCI-e (graphics card) connectors
• Checks Ground, +3.3V, +5V, +12V, -5V, and -12V lines
• Easy to use, just plug in connectors and green LEDs illuminate to show which pins are getting power
• Power supply will automatically turn on when connected

Test computer power supplies with this simple power supply tester.  It checks to the voltage on all wires to ensure that the power supply is functioning properly.  This is an essential tool for any computer technician.  It will allow you to quickly diagnose or rule out problems with the power supply, which should the the first thing you check when diagnosing computer problems.  Please note that some cheap power supplies do not provide -12V power.