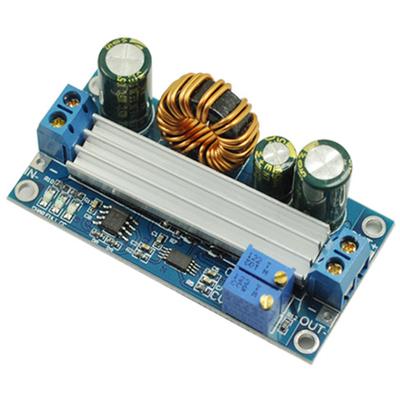 FP5139 60W DC-DC Buck Boost Voltage Converter SEPIC Module Step-up Step-Down Constant Current Adjustable Power Regulator Board
Volume Pricing
5+
$3.25
25+
$2.95
50+
$2.75
100+
$2.65
Price
$5.95
FREE SHIPPING ✈️
• Maintain stable output voltage and limit the output current over a wide range of input voltages. Great for general voltage conversion, battery charging, powering raw LEDs, automotive electronics, battery conversions, micro-controllers, and electronic projects.
• Input Voltage: 5-30V DC, Output Voltage: 0.5-30V DC, Max Load: 60W/4A Peak, 35W/3A Sustained (whichever is lower, amps or watts)
• Conversion Efficiency: Up to 88%, (our test results: 24V->12V1A: 86.5%, 12V->16V1.5A: 85%, 8V->16V1.5A: 74%)
• Dimensions: 65x32x21mm, FP5139 IC with External MOSFET, SEPIC Topology, 180KHz Switching Frequency
• Low input voltage or a large difference between input and output voltage will degrade the current capacity and efficiency (boosting 5V to 12V only works with very low current). The module will cut out if it is unable to source enough input current.

The single-ended primary-inductor converter (SEPIC) is a type of DC/DC converter that allows the electrical potential (voltage) at its output to be greater than, less than, or equal to that at its input. This is one of our favorite modules because it offers buck/boost capability, current limiting, and high operating efficiency.

Please note that the item is shipped without the heatsink attached.  Simply remove the adhesive backing from the heatsink and place it on the board as shown in the product photo.