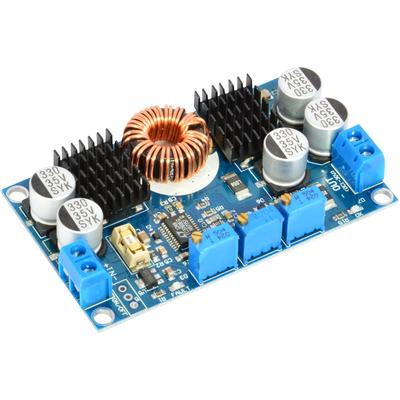 LTC3780 130W DC-DC Synchronous Buck Boost Voltage Converter Step-Up Step-Down Voltage / Current Power Regulator Board Highest Efficiency
Volume Pricing
5+
$12.20
10+
$11.40
25+
$11.00
50+
$10.80
100+
$10.75
Price
$16.95
FREE SHIPPING ✈️
• Maintain stable output voltage and limit the current over a wide range of input voltages. Great for general voltage conversion, battery charging, solar, LEDs, automotive electronics, battery conversions, micro-controllers, and electronic projects
• Synchronous rectification provides the most efficient power conversion available, up to 98%! We tested the following conversion efficiencies: 24V->12V1A: 98%, 12V->16V1.5A: 85.7%, 8V->16V: 76.7%. The buck (step-down) efficiency is phenomenal, the converter operates with a low thermal load allowing stable operation at higher current while maintaining a small physical size
• Ideal for running electronics off of a battery. The high efficiency maximizes battery life. Buck/boost capability allows devices to run across the full discharge curve of the battery. Under-voltage protection shuts off the device when the battery is depleted to prevent damage to lithium and lead-acid batteries
• Input Voltage: 5-32V DC, Output Voltage: 1-30V DC, Max Load: 130W/10A Peak, 80W/7A Sustained (whichever is lower, amps or watts). The maximum sustained load varies with the input and output voltages, and the difference between them, for long term stable operation do not allow the operating temperature to exceed 140 degrees Fahrenheit
• Dimensions: 77.6x46.5x15mm, Linear Technology LTC3780 IC with external MOSFETs, adjustable output voltage, output current, and input under voltage cutoff. 300KHz switching frequency

The LTC3780 is a high performance buck-boost switching regulator controller that operates from input voltages above, below or equal to the output voltage. With a wide input and output range and seamless transfers between operating modes, the LTC3780 is ideal for automotive and battery-powered systems.

Synchronous rectification technology uses a dedicated power MOSFET with very low on-state resistance to replace the rectifier diode and reduce the rectification loss. It can greatly improve the efficiency of DC / DC converter as there are no diode barrier voltage losses. Synchronous rectification technology greatly reduces the switching power supply losses, thereby enhancing the conversion efficiency and reducing waste heat.