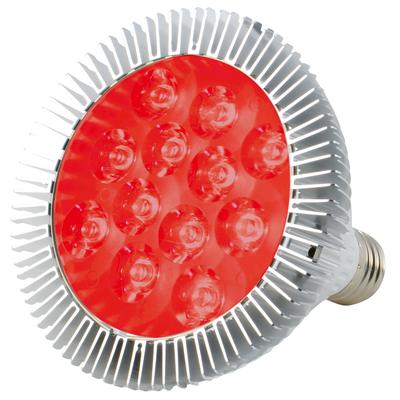 ABI 12W Deep Red 660nm LED Bloom Booster Grow Light Bulb for Flowering and Spectrum Enhancement
Volume Pricing
5+
$17.60
10+
$17.05
25+
$16.30
50+
$16.05
100+
$15.95
Price
$18.95
FREE SHIPPING ✈️
• Supplement, correct, or enhance an LED grow environment with 12W of 660nm red light. Promotes flowering / bloom and bud growth.
• Pulls a true 12W of power at the wall. Produces as much light as what other sellers are calling 24W.
• 50,000+ hour service life, 3-year manufacturer's warranty, assembled in the USA.
• Fits a standard household E26 socket. 100-240V AC input.
• LEDs: 12pcs 660nm Deep Red, Drive current: 420mA (12x2W Class), Beam Angle: 30-degree

High efficiency, quality components, and sturdy construction make the ABI 660nm red grow light the best choice for enhancing your grow environment. The ABI 660nm deep red grow light is especially beneficial during bloom phase, promoting large bud growth and healthy flowers. 660nm is very close to the absorbance maxima of chlorophyl a. Many LED grow lights are deficient in 660nm red. Use this light to enhance and correct your light spectrum. This bulb is assembled in the USA and is backed by a 3-year manufacturer's warranty.