out of stock - call to inquire about availability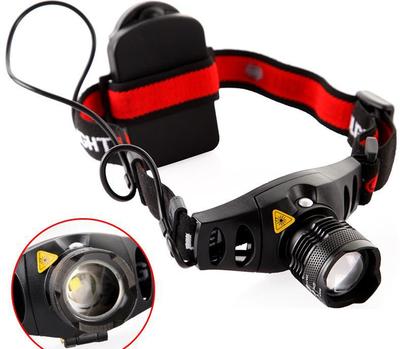 500 Lumen LED Headlamp Indoor/Outdoor with Three Light Modes and Adjustable Focus
• Brightness: 500 Lumen • Power: 4.2V • Power Source: 3x AAA Batteries (Not Included)
• LED Chip: CREE XPE Q5 • Modes: Bright, Dim, and Blinking
• Comfortable, adjustable head strapAdjustable focus for close and long distance
• 45 degree and 90 degree downward tilt

This LED headlamp is powerful enough for both personal and professional use.  A soft, adjustable strap allow you to remain comfortable after extended use, adjustable straps and a brightness of up to 500 lumen makes this a fantastic hands-free light source.

The LED light has a 45 degree and a 90 degree downwards tilt, allowing you to position it in just the right angle.  A smooth adjustable lens allows you to adjust the size and focus of the beam.  A more focused beam allows you to see further, with a brighter light, while a wider beam allows you to illuminate a larger area.